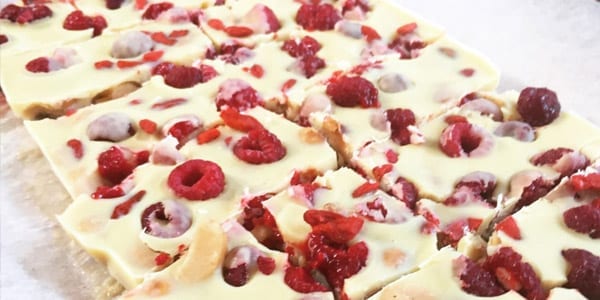 Recipe from Cooked with Love. For more mouth-watering recipes visit www.cookedwithlove.com.au
Macadamia and Berry White Chocolate
Ingredients
2 cups cacao butter, roughly chopped
⅓  cup of coconut cream
3 tbs raw honey
¼ tsp salt
½ cup raspberries
¼ cup goji berries
¼ cup flaked coconut
¼ cup raw macadamias, roughly chopped
Method
1. On a double boiler melt chopped cacao butter, coconut cream andhoneyover low heat. Heat stirring until cacao butter has melted. Add in salt and take off heat. Set aside to slightly cool.
While the chocolate is cooling, place chopped macadamiason a baking tray lined with baking paper and roast in the oven at 180 degrees for 6-8 mins or until they start to turn golden and have a beautiful roasted aroma.
In a medium sized baking tray or dish lined with baking paper, evenly arrange the goji berries, raspberries and flaked coconut.Drizzle over the white chocolate. Place in the fridge to harden.
Once chocolate is set, chop up into pieces… whatever size you feel!
Enjoy!