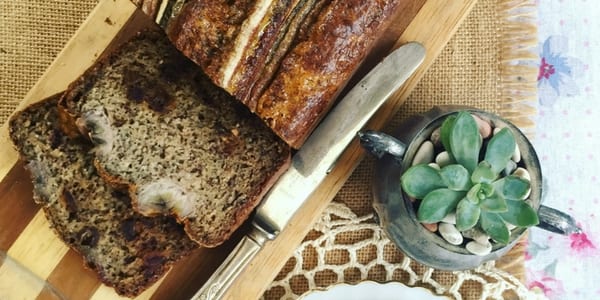 Katherine from Cooked with Love has created possibly one of the best grain free banana bread ever!
At CCK, we are a massive fan of the Cooked with Love recipes. This one is no exception. It is the perfect comfort food to help you get through winter.
Hope you enjoy this healthy recipe. For more delicious healthy sweets, check out the Cooked with Love website and recipe books.
Grain Free Banana Bread
Ingredients
2 ripe mashed bananas, 1 extra sliced lengthwise for the top (optional)
1 cup almond meal
1 ½ cups arrowroot flour
5 eggs
80g butter, melted (can substitute coconut oil for paleo) 5 tbs Chia Seeds
½ cup water
2 tsp ground cinnamon 1 tsp bi-carb soda
½ tsp vanilla powder (can substitute for vanilla extract)
¼ cup cacao nibs (optional)
½ cup chopped sun-dried dates
*If you like a sweeter bread you can add 2 tablespoons raw honey (or to taste)
Method
1. Preheat oven to 150 degrees (fan forced). Combine chia seeds with water and mix thoroughly, put aside but stir often.
2. In a medium sized mixing bowl combine almond meal, arrowroot flour, bi-card soda, vanilla powder and cinnamon and mix with a whisk ensuring there are no lumps.
3. Add mashed banana, butter, eggs and soaked chia seeds (chia seeds should have formed a gel) and mix until combined. Use a whisk to mix as this will help you break up the chia seeds.
4. Mix in cacao nibs and chopped dates.
5. Spoon into a loaf tin lined with baking paper and top with a sliced banana for decoration. Bake for approx 50min – 1hr or until bread springs back to the touch. Check with a skewer to make sure it comes out clean. Allow bread to cool for 10 mins before taking out of tin.